Pricing Programs
We offer a choice of pricing programs that are sure to meet your needs and risk-tolerance. In fact, we are the only Florida-based natural gas company to offer as many options!
Capped
Tired of volatile price fluctuations? Our Capped Price Program may be just what you are looking for! This option sets a ceiling price per therm for your natural gas and you are guaranteed to never pay more than that capped price regardless of what the market does.
The price follows the commodity market but has a price ceiling or cap.
Gain maximum protection against spikes and volatility in the market.
Provides flexibility to benefit from market drops or corrections.
Gives you budget control and peace of mind, allowing you to focus on your core business.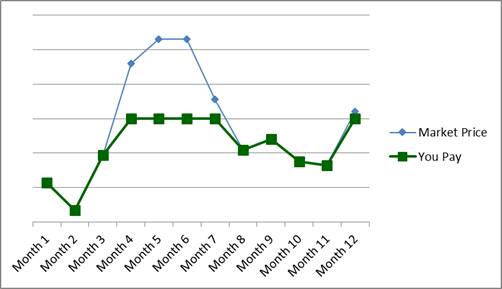 Fixed
Prefer to set it and forget it? Our fixed price program may be your ideal solution. We know managing cash flow can be tricky, especially when dealing with fluctuating monthly expenses. Our fixed price option allows you to lock in at a set price so you know exactly what you are paying per unit all year long.
As costs rise and fall, your price does not.
Gain protection against market volatility.
Maximum savings achieved when market spikes.
Allows budget control.
We offer a fixed price for partial or full loads and we can fix your rate for varying periods of time.
Work with Mirabito to Set a target price, and we will lock you in if the market reaches your trigger price.
Variable
If you prefer to float with the market, our variable pricing option may be your best bet. Gain the greatest flexibility to ride current market conditions for however long you wish and lock in a rate at any time. Start working with Mirabito, get comfortable with our team and how we do business. Then lock in a rate when it makes sense.
This pricing program is best suited for stable market conditions.
As costs rise and fall, your price rises and falls.
Ride out the market and switch to a fixed or capped rate program at any time.
Want to see how much you can save with Mirabito? Check out our savings calculator!
Testimonials
– 4 Star South Beach Hotel
"Mirabito Gas has been most helpful and knowledgeable in all areas of service relating to the natural gas supply to our hotel. In addition to directing us to a more cost effective service, we specifically appreciate their personal attention and assistance to our account. They are very reliable with their follow up and follow through."
- Major National Restaurant Chain
"Mirabito has significantly reduced my restaurant chain's natural gas expenses. They have provided me with financial gain and peace of mind in knowing that my restaurants are managing their natural gas expenses as efficiently as possible. I would highly recommend Mirabito Gas to any company."
- Exclusive Condominium Property
"Mirabito Gas provides us with a regular savings analysis that gives us an accurate report of our savings. We use these reports at budget time. Their customer service is professional, prompt and courteous."
- 5 Star Restaurant
"I would like to commend Mirabito on helping our company manage our natural gas expenses. Their personal care and going the extra mile for their customers makes them one of the real pros in the business."
- Florida Assisted Living Facility Chain
"In the years that Mirabito Gas has been supplying our natural gas, the results have been astonishing. They have saved our company thousands of dollars and given us cost comparisons to back up their promises of savings."